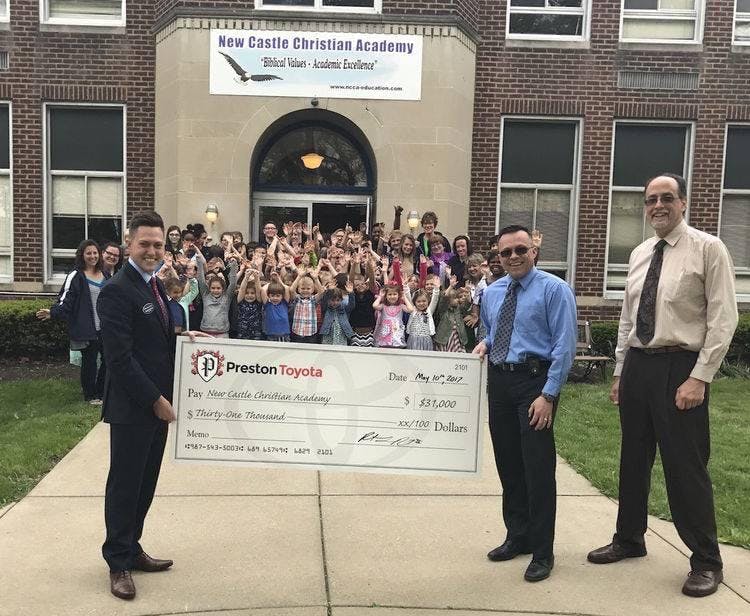 PRESTON GIFT FUNDS CHRISTIAN ACADEMY TECHNOLOGY
Children at the New Castle Christian Academy will have some enhanced digital opportunities, thanks to Preston Toyota.
The dealership recently donated $31,000 to the school's computer lab.
"It's an amazing school," owner and general manager Bobby Preston said. "We like to support education in general, but they offer a lot of scholarships in the New Castle community to kids who may not otherwise be able to get that level of education, and we wanted to help with that."
Preston visited with youngsters at the school, and found it "cool that they have so many computer skills already at such a young age."
Academy administrator Gary Hoetzler said the Preston donation enabled to the school to leap ahead in its bid to update its digital potential.
"When I first came to the school, I could see that our technology was very outdated and needed upgraded,"said Hoetzler. "We started to get some donations on the side here and there, and piecing some things together to update. Then Bobby Preston offered $31,000, and we were able to upgrade our internet access, our wireless capabilities within the building, we got a couple of white boards and up-to-date routers."
Academy students now are using Chromebooks and learning through Google classroom technology.
"It's just a tremendous opportunity for our students," Hoetzler added, "and we are deeply appreciative."
Right now, the technology is being used to facilitate a joint project between the academy's kindergarten and older students, Hoetzler explained. The younger children are coming up with ideas and illustrations for a book, and the older ones are helping them with keyboarding and getting their stories into print.
Back to Parent Page