PRESTON GIFT FUNDS CHRISTIAN ACADEMY TECHNOLOGY
Children at the New Castle Christian Academy will have some enhanced digital opportunities, thanks to Preston Toyota.
The dealership recently donated $31,000 to the school's computer lab.
"It's an amazing school," owner and general manager Bobby Preston said. "We like to support education in general, but they offer a lot of scholarships in the New Castle community to kids who may not otherwise be able to get that level of education, and we wanted to help with that."
Preston visited with youngsters at the school, and found it "cool that they have so many computer skills already at such a young age."
Bobby Preston, left, owner and general manager of Preston Toyota, holds one end of an oversized check for $31,000 made out to the New Castle Christian Academy. Academy students stand behind the check, while at right are Don Goodlin, chairman of the Christian Academy board, holding the check, and Gary Hoetzler, academy administrator.
Academy administrator Gary Hoetzler said the Preston donation enabled to the school to leap ahead in its bid to update its digital potential.
"When I first came to the school, I could see that our technology was very outdated and needed upgraded,"said Hoetzler. "We started to get some donations on the side here and there, and piecing some things together to update. Then Bobby Preston offered $31,000, and we were able to upgrade our internet access, our wireless capabilities within the building, we got a couple of white boards and up-to-date routers."
Academy students now are using Chromebooks and learning through Google classroom technology.
"It's just a tremendous opportunity for our students," Hoetzler added, "and we are deeply appreciative."
Right now, the technology is being used to facilitate a joint project between the academy's kindergarten and older students, Hoetzler explained. The younger children are coming up with ideas and illustrations for a book, and the older ones are helping them with keyboarding and getting their stories into print.
---
PRESTON LOOKS AFTER ITS ASSOCIATES AS WELL AS CUSTOMERS
It takes more than a customer to conclude a car sale or complete a service request. There must also be a sales or service associate. With that in mind, Preston Auto Group makes it a priority not only to build relationships with its customers and its community, but also to ensure that its employees are just as satisfied with the Preston experience.
Preston employs more than 400 associates — including 300 full-timers — at its nine dealerships in western Pennsylvania and eastern Ohio, and president Bobby Preston wants them to have the best possible place to work. "We've always offered the area's top pay, we're now doing some things to really invest in our associates to make Preston a great place to work," Preston said. "Twice a year we do our Family Days. We rent out the Preston-Chambers YMCA Y Zone and have inflatables and things like that for all our associates' families. We also went to Irons Mill in the fall for hayrides, get a pumpkin and all that stuff up there. "We also recently opened a full gym (right next to the Preston Budget Lot on Wilmington Road) that our associates can use 24/7, just so they don't have to pay for a gym membership on top of all the other expenses I'm sure they have in life."
Preston associates also are offered various classes, such as leadership training and Dave Ramsey's Financial Peace University, which provides lessons on managing money. It's all part of Preston's commitment to build relationships with its customers, give its associates the best place to work and to give back to the community. "That's our purpose, that's why we're here," Preston said. "It's not just to be a business, not just to sell cars. It's to help add value to people's lives."
For customers, the Preston Budget Lot — opened just over a year go — is another way to do that. "The nice thing there is that for people who have less than perfect credit, it's a great place to get a vehicle," Preston said. "We have a company that we partner with that really allows to get anyone approved on a vehicle. "And what's nice, too, is that all of our vehicles there are PA state inspected. A lot of used car lots you go to around the area, a lot of those cars haven't been serviced, most of them haven't been state inspected. You buy them and then you find out you have to invest $1,500 more into this car. All the cars on the Preston Budget Lot have been PA state inspected and safety checked, so you have a lot more confidence buying a car from the Preston Budget Lot." And most of the vehicles at the Budget Lot have been locally owned. "A lot of dealerships buy rental cars and stuff like that, ridden really rough," Preston said. "All the cars in the Preston Budget lot come from the GM Superstore, they come from Toyota, they come from Honda, they come from Chrysler Dodge Jeep Ram store. "So these are trade-ins that generally are a little bit older or have higher miles, but most trade-ins have been taken care of a lot better than a rental car or something like that."
---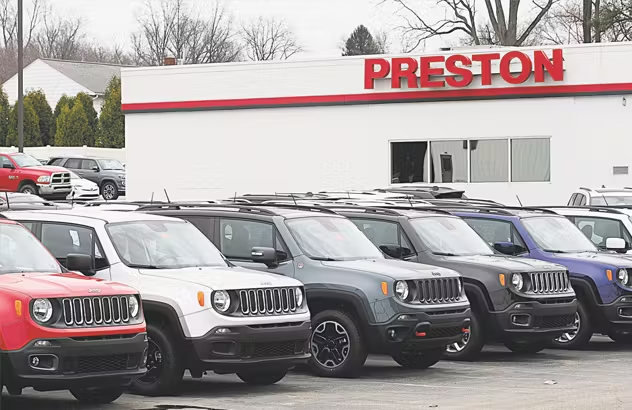 DEALERSHIP CHAIN MAKES BUILDING RELATIONSHIPS WITH CUSTOMERS, COMMUNITY ITS TOP GOAL
Nearly two years ago, Preston Auto Group opened its GM Superstore at the corner of Wilmington and Mitchell Roads. That meant moving Preston's other GM products — Buick, GMC and Cadillac — out of their North Hill showroom to join the newly acquired Chevrolet franchise at the Neshannock Township facility. Preston then filled that void by renovating that empty space and creating its Chrysler Dodge Jeep Ram showroom, pushing Preston's dealership total to nine — representing 16 brands — in Western Pennsylvania and Eastern Ohio.
Is more such expansion on the horizon?
Bobby Preston isn't ruling it out, but emphasized that for the Preston family, building relationships comes before building dealerships. "We want to grow naturally and organically," the president of the Preston Auto Group said. "We want our success at our current locations to allow us to grow into another location. We're not looking to expand just for expansion's sake… We want to give our customers a good experience, so that customers in surrounding areas are asking us to go into those areas. "One of the things we try to do with our associates in investing in them is that we are always training our next managers. So we're certainly preparing to have the people in place to be able to expand, but we want to make sure that the same service levels that our customers have come to expect are still intact."
Toward that end, the Chrysler Dodge Jeep Ram store isn't the only thing that Preston added in 2016. There's also the Preston Advantage. That's on top of the Presto Price, which Preston called "an up-front, great deal." "We do all the research to ensure customers get the best deal in the market right up front," he went on. "All of our used cars, you can see our prices right online, they're all priced at or below book value on our website. That's gone really well, but we wanted to do something extra, above and beyond with the Preston Advantage to give our customers an even better value, and also to build a lifelong relationship with us." The Preston Advantage builds on Preston's commitment to customer care by offering a lifetime engine warranty (except on new BMWs and leased vehicles) in addition to providing the first two oil changes at no charge, free state inspections for life and free loaner vehicles for service, as well as a lifetime of free car washes, which the dealerships already had offered. "In addition, we now have a three-day return and exchange policy just to give customers peace of mind," Preston said. "That's included with every new vehicle we sell now. We just really wanted to give something to our customers to make a Preston deal really unbeatable." It seems to be working. "If you look online at our stores, on Google or Facebook or Dealer-Rater, you'll see we've amassed probably over 5,000 reviews between all of our stores, most of which are five-star reviews," Preston said. "We take a lot of pride in giving our customers a great experience. We do want to be a blessing to the community and out of that, too, we want to be able to give our associates a great place to work. "The vast majority of our business is previous customers. That's why building a relationship is so important, and that's why we do things that no other dealers do, like free car washes for life, free state inspections for life."
Preston also offers quarterly "new owner celebrations," for which every customer who has purchased a new car over the previous three months is invited back to the dealership. There are give-aways, such as Honda and Toyota gear or a flat-screen TV, but the main purpose is to make sure the customer is getting the most out of his or her vehicle. "No other dealerships do it, and we don't get anything out of it," Preston said. "We just want to really make sure that our customers know how to operate their vehicle to its fullest potential. A lot of times when you buy a car, there are a lot of buttons that you haven't tried out yet and once you've been in it a few weeks or a month, you're wondering what they do. So we really want to bring everyone back so those questions can be answered. "We also teach our customers how to best maintain their vehicle. We follow the owner's manual, but we like to give insight on that, give tips on how to best maintain their vehicle, and lastly, we want to make sure they know where to go, who's going to be taking care of their cars."
Preston noted that the auto group has more master trained technicians than any other dealership in the area, which has become more vital than ever. "As technologically advanced as all these cars are becoming, it's really important to bring your car to the dealership," he said. "There are a lot of things, like warranty items, that customers pay for out of pocket at independent shops or quick-lube places that could be covered under warranty. Or there's recalls on cars that, again, people are paying for out of pocket that could have been covered. So it's really important that they bring it to us. "Plus a lot of those places end up having to bring customers' cars to us just to figure out what's the matter with them because they don't have the right tools. You have to have the right GM computer system or Toyota software in order to figure out what's wrong with their vehicle." When vehicle service is needed, Preston makes arranging it easy with online scheduling and a corps of 10 service concierges who are on hand specifically to answer questions or schedule appointments over the phone. "Also," Preston said, "a lot of our cars now are notifying us when the customer's car is due for service, and if there are any issues, like a 'check engine' light coming on or any safety issues so we can get out in front of that. So the customer doesn't even have to call us; we can call them as ask 'What day is convenient for you?'"
And it's not just customers who benefit from Preston's commitment to service. Last year, for instance, the Toyota store donated $60,000 to create 15 workout stations and resolve drainage issues along the walking trail at Neshannock Township's Pearson Park. For 2017 and beyond, Preston plans to continue giving customers "a great place to buy a car, just a great place do business, or in the case of a lot of our customers, to just come in." "We just want to know how their family's doing and build that relationship," Preston said. "We have a lot of people who just come in just to talk to us, just to hang out. That's what we're going for. "One of the things we say is that we want to re-earn our customers' business every time they come in. If we do that, we know that the sales are going to be there, and in the long run, we're going to be successful."